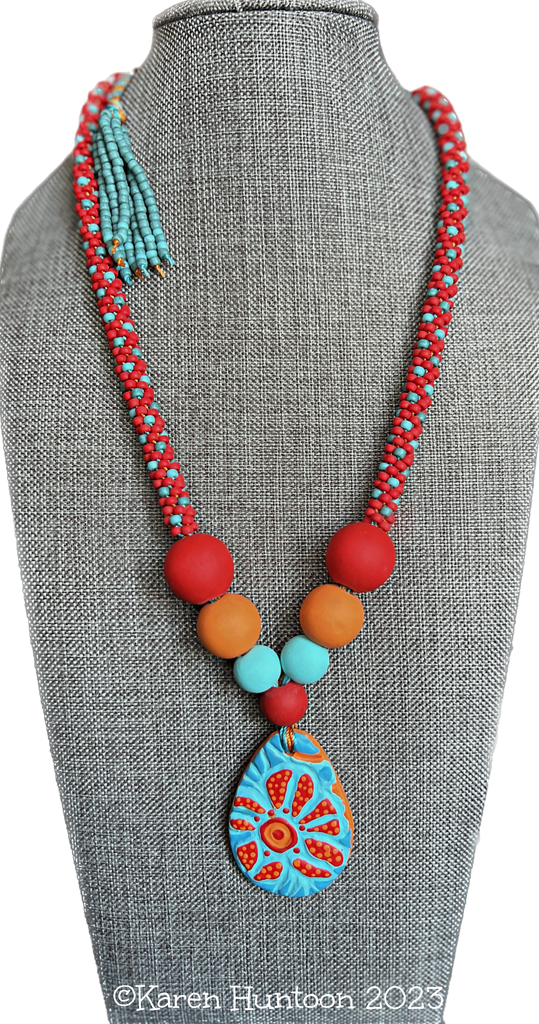 "8-Strand Beaded Kumihimo "Spot" Necklace with Handpainted Flower Pendant & Accent Beads" - RTK
$ 52.00
Description:
This is another kit in my collection of necklaces called "Painting with Beads".
THIS NECKLACE FEATURES AN ADJUSTABLE CLOSURE WITH BEADED TASSELS.
You will learn four great techniques in this kit: 1) You will learn the "Half-Knot" method for attaching a pendant (helpful when a Lark's Head Knot isn't feasible), 2) you will learn the technique for "Starting in the Middle", 3) you will load beads for a Spot pattern and 4) you will learn how to make an adjustable closure with beaded tassels. This is a fun necklace to make and these are techniques you can adapt to your other projects.

This necklace showcases a handpainted Ceramic Pendant with wooden accent beads.

The focal length is 3 1/2". The beaded sections are a solid spiral and spotted spiral design and measure 6" on each side. The braided sections are a two color spiral and they also measure 6" on each side. The finished length of the necklace is approximately 27" (give or take depending on beads and braider's technique). This necklace showcases handpainted Ceramic Pendant accented with wooden round beads.
You will need: Kumihimo Disk (I like to use the Beadsmith THICK Mini), 9 Bobbins, Scissors, Tape Measure.

You should know: Kongoh Gumi braid structure (also called Round Braid) and how to drop beads. If you need a reminder check out Tip #14 Braiding with Beads.
Kit includes:
Handpainted Ceramic Pendant (43.5 mm)
7 Handpainted Wooden Beads (graduating sizes)
Pre-cut C-Lon BeadCord (two colors)
8/o Toho/Miyuki Seed Beads (3 colors)
Barrel Bead for Adjustable Closure
Wide Eye Needle
Instructions with photos
Related Products