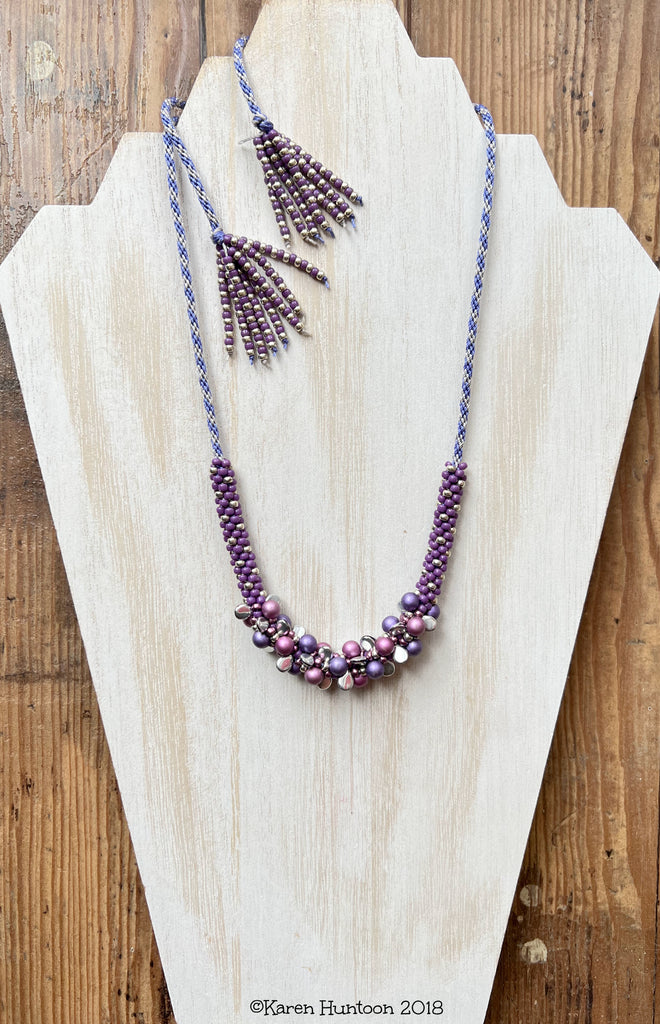 Beaded Kumihimo Baubles & Pips Necklace Kit - Orchid
$ 34.00
Description:
The Kumihimo Beaded Baubles & Pip Necklace is alot of fun. I created this necklace with three different areas of design. First, look at the "fiber only" braided lengths. I chose C-Lon colors to enhance the colors of the beads and a pattern, I call the "Double Wide Zig Zag", that adds some flair without being distracting. Next, there are sections with all 8/0 seed beads and in the middle there is the Baubles & Pips Focal detail. Within the Baubles & Pipsfocal detail, I have used my nested bead technique which allows the small seed beads to fill all the spots around the larger Baubles & Pips Beads. The adjustable closure, which I have been using for several years in alot of my kits, allows you to wear the necklace as short as you would like or as long as 28" or so (depending on braider).
Kit includes:
- 24 Baubles (12 of each color)
- 24 Pip Beads
- 2 colors C-Lon (pre-cut)
- 3 colors of 8/0 Toho / Miyuki Seed Beads
- Barrel Bead for Adjustable Closure
- Wide Eye Needle
- Instructions with Photos
You will need:
- Kumihimo Disk with 35mm center hole (I use the Beadsmith THICK Mini and it's great)
- 8 Bobbins (I use the Small EZ Bobbins)
- Scissors
- Tape Measure
- Fray Block (optional)

You should know:
- Kumihimo Round Braid (Kongoh Gumi)
- How to drop beads (see Kumihimo Tip #14 if you need a refresher). It's easy.
Cost $34.00
Related Products