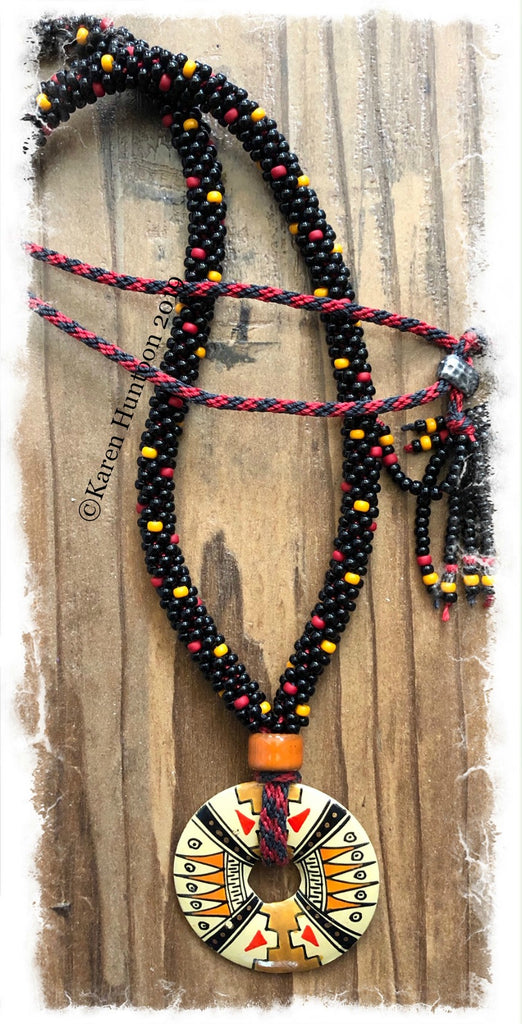 "Beaded Kumihimo "Spot" Necklace with Painted Peruvian Pendant (Camel & Red)
$ 40.00
Description:

I just love the Kumihimo "Spot"  Beaded Necklace with the handpainted ceramic Peruvian Pendant. These gorgeous Peruvian pendants are handpainted in a little town near Cusco in Peru. 
The beaded pattern is a simple spot pattern. This kit teaches you a great option for attaching a pendant and utilizes the adjustable closure.  The shortest length is around 17" and the longest length is 26 1/2" (plus or minus).
 You will need:
Kumihimo Foam Disk (I prefer the BeadSmith THICK Mini disk; thick disk provides better tension on C-Lon BeadCord.)

8 Plastic Bobbins

 

Scissors

Tape Measure
You should know:

Kongoh Gumi also known as Round Braid

How to drop beads; see Tip #14 at www.whatabraid.com for a refresher.
 Kit Includes:
16 yards C-Lon BeadCord (2 colors)

8/o Toho/Miyuki Seed Beads (3 colors)

Handpainted Peruvian Pendant

1 Porcelain Accent Bead

Barrel Bead for Adjustable Closure

Instructions with Photos
Related Products