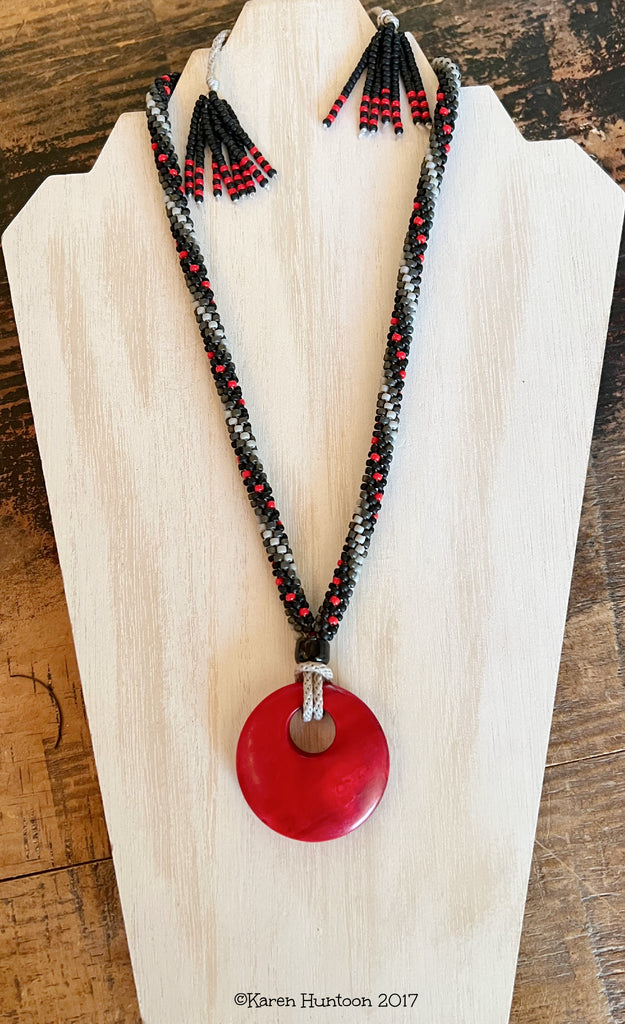 "8/0 Beaded Elongated Swirl Kumihimo Necklace Kit with Red Pendant & Adjustable Closure" - Blk/Red
$ 46.00
Description:

This kit teaches you a great option for attaching a pendant and utilizes the adjustable closure. The beaded design is an elongated spiral with a dotted stripe. The beaded lengths measure 8" on each side and the braided tails on either end are 6" each. The necklace can be worn as short as 16" or as long as 28" (depending on beads and braider). Enjoy!
You will need:
Kumihimo Disk (newer is best; try the BeadSmith THICK mini disk)

8 Bobbins

Scissors

Tape Measure
You should know:

Kongoh Gumi also known as Round Braid

How to drop beads; see Tip #14 at www.whatabraid.com for a refresher.
Kit Includes:
1 spool C-Lon Bead Cord

4 colors 8/0 Toho or Miyuki Seed Beads 

Red Howlite Pendant

1 Porcelain Accent Bead

Barrel Bead for Adjustable Closure

Wide Eye Needle

Instructions
Related Products