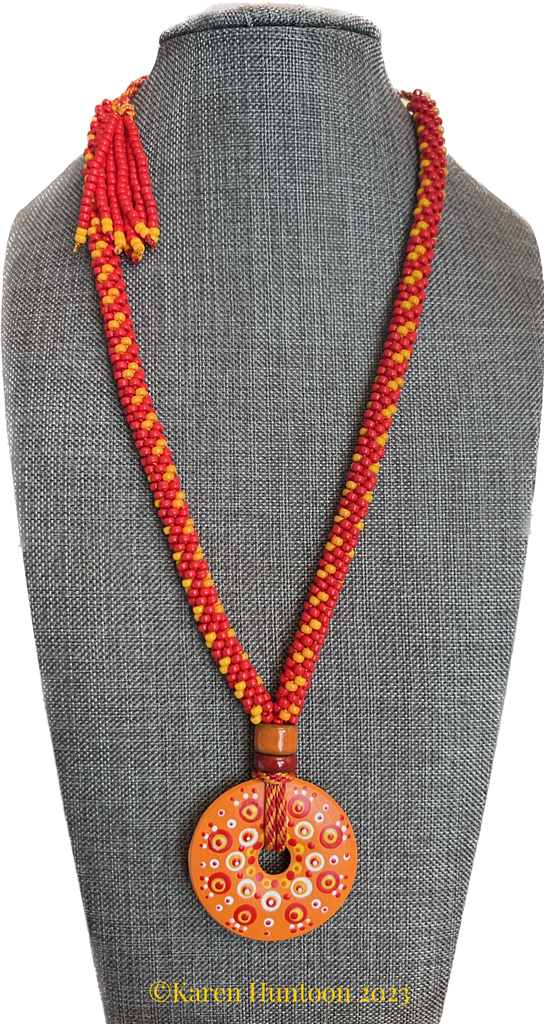 "8-strand Beaded Kumihimo "Double Spot" Necklace with Handpainted Mandala Sunshine"
$ 48.50
Description:

The Kumihimo beaded necklace with a handpainted ceramic mandala pendant is a beauty.       

The beaded pattern is a simple dot pattern that compliments, but does not take away from, the gorgeous Mandala design. The adjustable closure allows this necklace to be worn at whatever length pleases you. The shortest length is around 17" and the longest length is 26 1/2" (plus or minus).
 You will need:
Kumihimo Foam Disk (I prefer the BeadSmith THICK Mini disk; thick disk provides better tension on C-Lon BeadCord.)

8 Plastic Bobbins

 

Scissors

Tape Measure
You should know:

Kongoh Gumi also known as Round Braid

How to drop beads; see Tip #14 at www.whatabraid.com for a refresher.
 Kit Includes:
16 yards C-Lon BeadCord (2 colors)

8/o Toho/Miyuki Seed Beads (3 colors)

Handpainted Ceramic Mandala Pendant

 (43-44mm)

1 Porcelain Pony Bead
1 Porcelain Cheerio Bead

Barrel Bead for Adjustable Closure

Instructions with Photos
Related Products