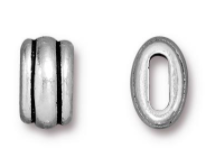 Barrel Beads, Deco, Antique Silver Plated, 6x2mm
$ 1.25
Description:
These Deco Barrel Beads will work with the Adjustable Closure in many of my Kumihimo Necklaces.

Deco Oval Barrel Beads:

Width (mm): 10.6 mm
Height (mm): 6.8 mm
Hole Diameter (mm): 2.2 x 6.3 mm
Materials and Finish: Cadmium & Lead free Pewter, Antiqued Silver Plate
Country of Origin: USA
These crimpable barrel beads have 6x2mm holes large enough to accommodate large stringing materials like round cords, suede lace, and ribbons. They can be crimped to hold materials in place use a hammer and block, tapping gently until hold is achieved!


Related Products