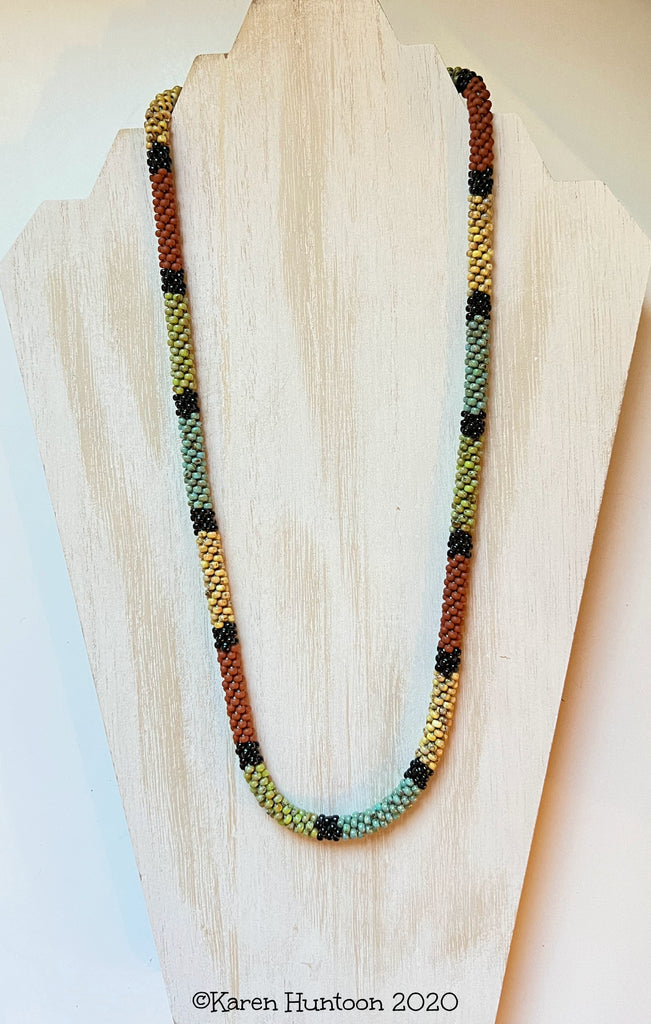 "8/0 Beaded Colorblock Kumihimo Necklace" - Picasso
$ 46.00
Description:
This Kumihimo Beaded Necklace is classy and its simplicity is striking. The necklace is made up of 4 colors of 8/0 beads (mostly Picasso) divided by short blocks of black. The necklace is finished with a 4mm Acrylic Magnetic End Clasp. This is quick and fun to make. 

The beaded portion of the necklace measures approximately 25" (depending on beads, braider, tension, etc) and the Acrylic Magnetic Clasp adds about 1/2" and inch.  
- Scissors
- Tape Measure
- Cord Zapper, Fray Block or Needle & Thread (for finishing ends)
- Glue to attach end clasp (I use WeldBond Universal Glue)
You should know:
- Kumihimo Round Braid (Kongoh Gumi)

Kit includes:
8/0 Toho/Miyuki seed bead (5 colors)

1 spool of C-Lon Bead Cord (you will have plenty of extra)

4mm Acrylic Magnetic Clasp

Instructions with photos
You can also braid this necklace on a Marudai, however, the instructions are written for the foam disk. 
Related Products