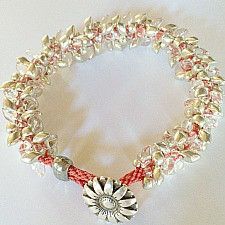 Holiday Clunky, Funky & Fun Magatama Bracelet Kit
$ 19.50
Description:
Isn't this fun!
 The Clunky, Funky & Fun Bracelet is a combination of 4 x 7 Long Magatama Beads and 8/0 and 6/0 Toho/Miyuki Seed Beads. The fabulous Button and Loop Closure is a great technique and can be used in many applications. The nature of this closure allows for flexibility in sizing and allows for easy on & off. I love this and I am sure you will too! There are enough beads and cord in your kit to accommodate a variety of sizes. 
You will Need:
 Kumihimo Disk (preferably a newer one), 8 Bobbins, Measuring Tape, Heavy Duty Thread, Needle, Glue (like WeldBond). 
You Should Know
: Kumihimo Round Braid (Kongoh Gumi), how to "drop" beads.
See KumihimoTip #14
if you need a refresher on braiding with beads.
Kit includes:
1 Spool C-Lon Beadcord
Magatama Beads
6/0 Toho or Miyuki Seed Beads
8/0 Toho or Miyuki Seed Beads
Button & Barrel
Wide Eye Needle
Instructions with photos
(
Button and Barrel Bead may vary from photos – but will be equally as nice if not even nicer
)!
P.S. Please note that this kits uses C-Lon Beadcord which is a thinner cord than the C-Lon Tex 400. In order to maintain consistent tension on your cords, you should use a disk that is newer and has not been "stretched" out by larger diameter cords. I suggest the Thick Mini Disk.
Related Products