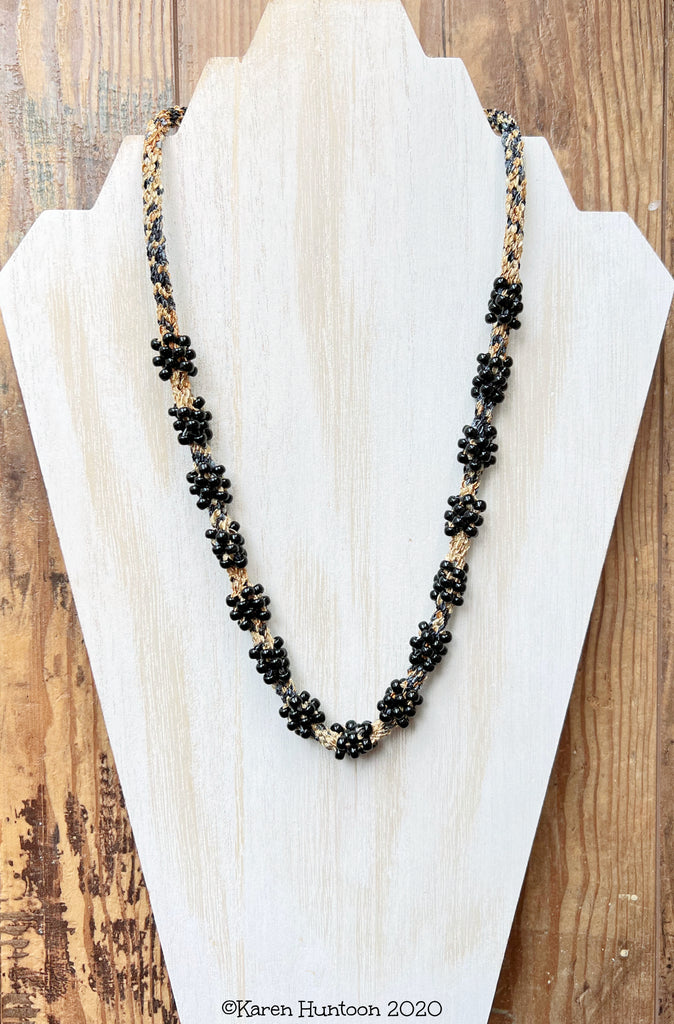 Jubilee Ribbon Cluster Bead Necklace Kit - Travertine & Black
$ 24.00
The Jubilee Ribbon Cluster Bead Necklace can be braided on the disk or Marudai.
The instructions are written for the disk but can be easily interpreted for the Marudai. 
The Jubilee Ribbon Cluster Bead Necklace is braided using the Kongoh Gumi braid structure combined with the drop bead technique. Super simple, super easy and super fun. It's fun watching the colors change with the variegated colors in the ribbon. 

This necklace is approximately 24" long (depending on braider and technique) and consists of Jubilee Ribbon and 15 clusters of beads using 6/0 seed beads. It is finished with a glue-in magnetic clasp. The necklace can be finished shorter for those who like a closer fit. 
I tried this on both the thick (20mm) and standard (10mm) Kumihimo disks and I liked the 10mm disk better. The thick disk put a little too much stress on the ribbon. 
You will need: Kumihimo Disk (I prefer the mini foam disk - 10mm), 8 plastic bobbins, Scissors, Tape Measure,
Glue (I like Weldbond Universal found at ACE Hardware and some Craft Stores).

You should know: You should be comfortable with the Kongoh Gumi (or round ) braid structure and how to drop beads. The Kongoh Gumi braid is "Left up, Right Down, Rotate" OR "Right down, Let Up, Rotate". If you need a reminder on braiding with beads, see Tip #14 at www.whatabraid.com. Look under Tips.

Kit includes:
Jubilee Ribbon (12 yards)
6/0 Toho or Miyuki Seed Beads 
1 Set 6 mm All in One Magnetic End Caps
Wide Eye Needle
Instructions with photos
Related Products