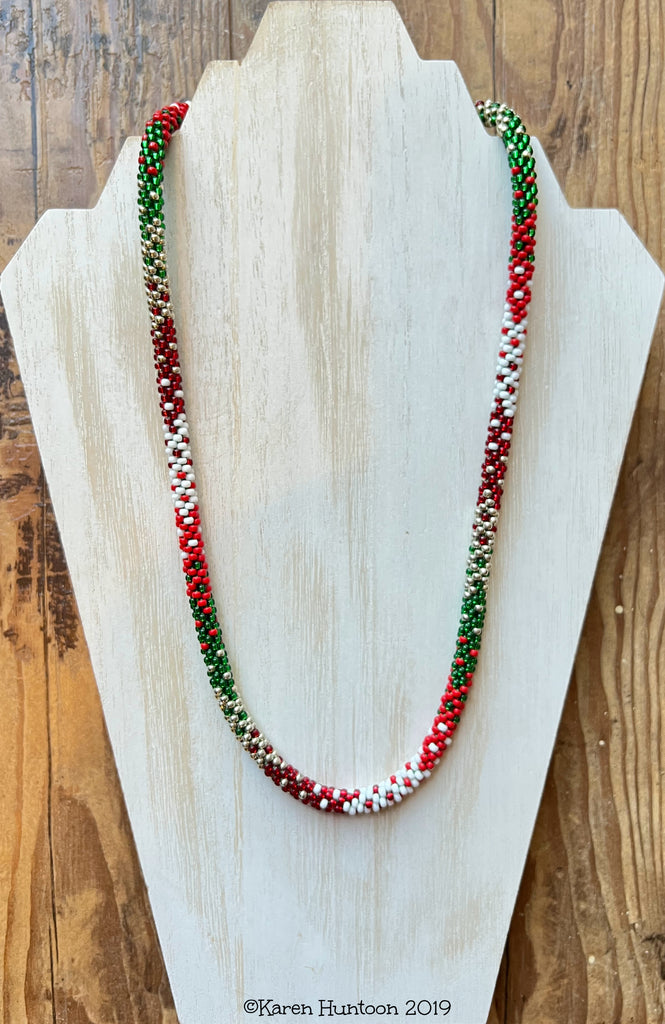 8/0 Beaded Christmas - Holiday Kumihimo Necklace" with Magnetic Closure - 24
$ 46.00
Description:

Okay, I've said it before, but this one is my NEW FAVORITES!  I call this design Karen's "Fusion-5" Kumihimo 8/O Beaded Necklace. To achieve the "fusion" of colors, the 5 colors of beads are strung in a particular sequence of colored/patterned sections to create a "fused" look.

The finished length of the beaded portion is right around 23" (depending on beads and braider) and the magnetic clasp adds about an inch making the finshed length right around 24"

You will need: Kumihimo Disk (I recommend the BeadSmith Thick Mini), 8 bobbins, tape measure, scissors. You should know: Kumihimo Round Braid (Kongoh-Gumi) and how to "drop" beads. If you need a braiding with beads refresher check out Kumihimo Tip #14.  While the instructions are written for a disk, they are easily adaptable to the Marudai.

Kit Includes:
C-Lon Bead Cord (1 spool)
Miyuki / Toho 8/0 Seed Beads (5 colors) Lots of Beads!
4mm Acrylic Magnetic Clasp
Wide Eye Needle
Instructions with Photos
Related Products