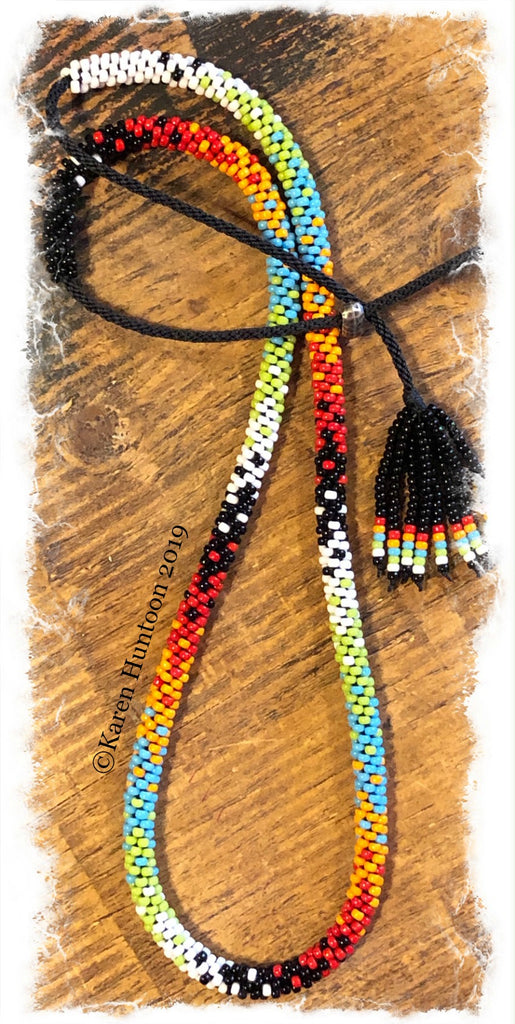 "8/0 Beaded FUSION-6" Kumihimo Necklace" with Adjustable Closure" - B & W
$ 44.00
Description:
Okay, I've said it before, but this one is my NEW FAVORITE!  I call this design Karen's "Fusion-6" Kumihimo 8/O Beaded Necklace. To achieve the "fusion" of colors, the 6 colors of beads are strung in a particular sequence of colored/patterned sections to create a "fused" look. The Black Pottery Heart Focal comes pre-assembled (patterns on hearts may vary slightly from one to the other - they are handmade). The Heart Pendants are
3-D (not flat).

The adjustable closure allows you to wear the necklace shorter or longer.  I have designed this necklace to be worn a little longer. The finished length of the beaded portion is right around 22 1/2" (depending on beads and braider) and the braided tails are about 6′′ on each end. You can wear this necklace as short as 22 1/2′′ and even longer if you like.

Finished Beaded Length: 22 1/2"
Additional length with Adjustable Closure
This bright delight is made up in a combination of Miyuki Opaque seed beads.

Keep in mind, you can also finish this necklace with a 4mm clasp of your choosing. I like the 4mm Acrylic End Cap with this (does not come in kit). 
You will need
: Kumihimo Disk (I recommend the
BeadSmith Thick Mini
), 8 bobbins, tape measure, scissors. 
You should know:
 Kumihimo Round Braid (Kongoh-Gumi) and how to "drop" beads. If you need a braiding with beads refresher check out
Kumihimo Tip #14
.  While the instructions are written for a disk, they are easily adaptable to the Marudai.
Kit Includes:
C-Lon Bead Cord (1 spool)
Miyuki 8/0 Seed Beads (6 colors) Lots of Beads!
Barrel Bead for Closure
Wide Eye Needle
Instructions with Photos
Related Products