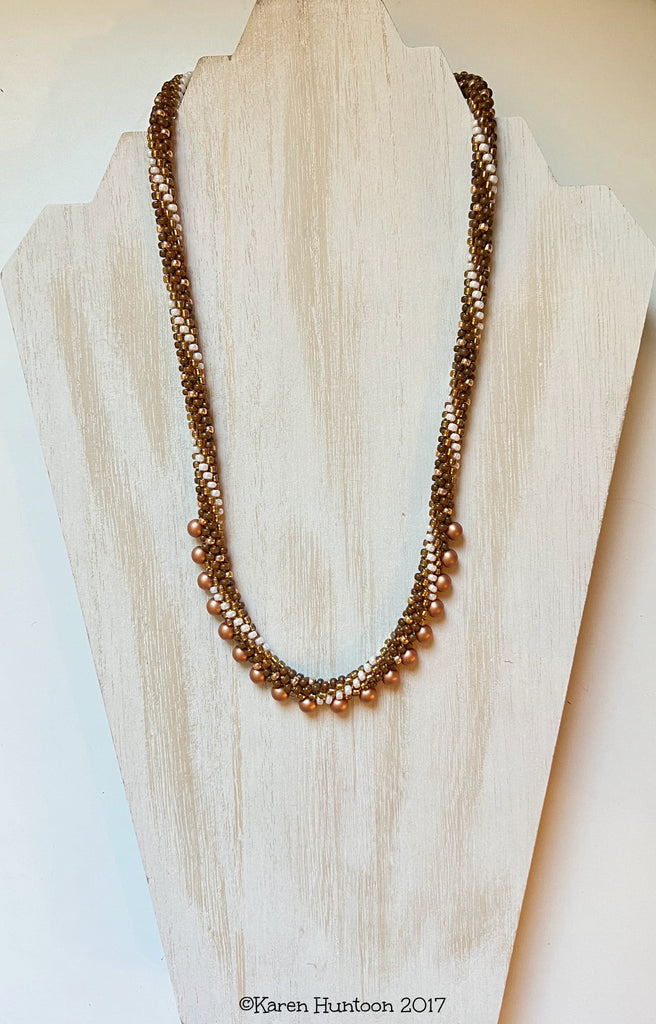 Beaded Bauble Fringe Kumihimo Necklace Kit - Cognac Twist
$ 42.00
Description:

This is a new spin on the Beaded Petal Fringe Necklace. I have switched out the Leaves for Baubles. I think this might be my new favorite. 
I have created 4 colorways of the new Kumihimo Beaded Bauble Fringe Necklace Kit! I get so many requests for colors and this time I tried to cover all the bases! Hope you will find a color that you like. Each necklace consists of 4 colors of 8/0 Toho and/or Miyuki seed beads and coordinating Baubles. The magnetic clasp is the 4mm Acrylic Magnetic Clasp - super strong and super nice. The beaded design is an elongated swirl with a single galvanized dot pattern. Experimenting with the colors and the placement of the colors was alot of fun. The beaded portion of the necklace is about 20 to 20 1/2" (depending on braider, disk or marudai, weights, tension) with 3" of braid at either end of the beaded sections. The Acrylic Magnetic Clasp can be attached right up to the beads for a shorter necklace and for those of you that want a longer necklace, you can attach the clasp further out on the braided tails. Another option is to purchase an extra package of each of the beads and add on to the repeats at the start and finish of the braid. 
The necklace can be worn as short as 21" and as long as 27" (approximates).
You should know: 
Kumihimo Round Braid (Kongoh Gumi), 
How to drop beads (see 
Kumihimo Tip #14
 if you need a refresher)
Kit includes:
4 colors 8/0 Toho/Miyuki seed bead
18 Baubles

1 spool of C-Lon Bead Cord (you will have plenty of extra)

4mm Acrylic Magnetic Glue-in Clasp

Wide Eye Needle 

Instructions with photos
Related Products