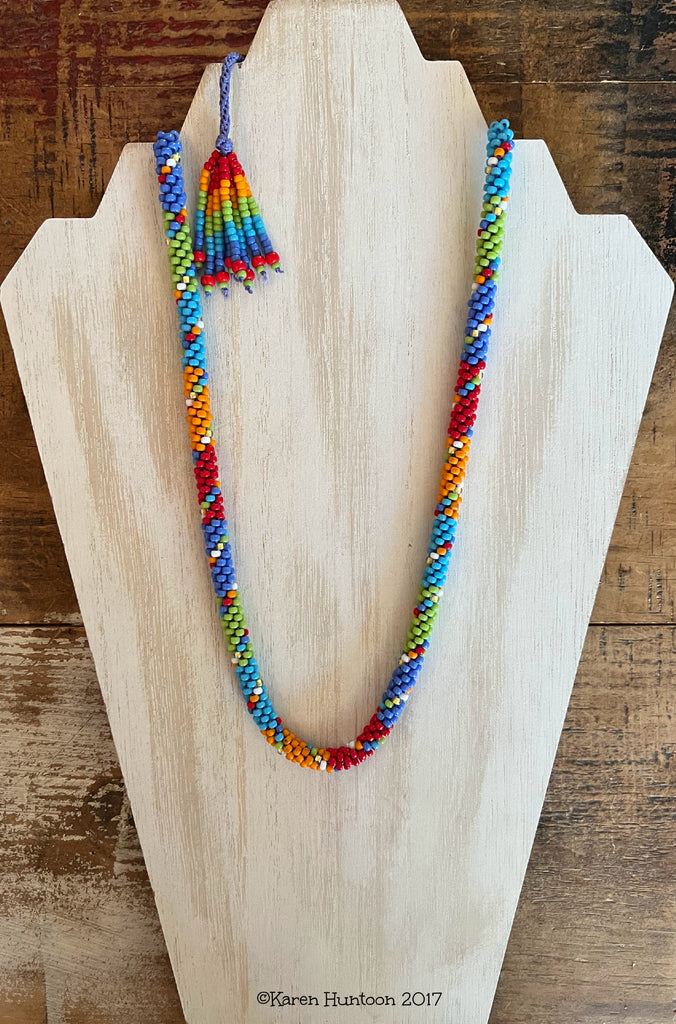 "8/0 Beaded Colorblock Kumihimo Necklace" - Brights
$ 40.00
Description:

This design is another kit in my "Painting with Beads" collection. The necklace is designed with 18 "sections" of color-blocking with 8/0 Toho/Miyuki seed beads and a contrasting multi-colored dotted spiral. I love bright colors and this is probably one of the cheeriest necklaces in my What a Braid Collection. I even kept one for myself. The adjustable closure is nice because it gives you flexibility -you can wear it longer or shorter if you like! Quantities limited. 
Kit includes:
- 1 Spool C-Lon Bead Cord (77 yards - you will have extra)
- 8/0 Toho / Miyuki Seed Beads (7 colors)
- Barrel Bead for Adjustable Closure
- Wide Eye Needle
- Instructions with Photos
You will need:
- Kumihimo Disk (I use the Beadsmith THICK Mini and it's great)
- 8 Bobbins (I use the Small EZ Bobbins)
- Scissors
- Tape Measure

You should know:
- Kumihimo Round Braid (Kongoh Gumi)
- How to drop beads (see Kumihimo Tip #14 if you need a refresher). It's easy.
Cost $38
Related Products