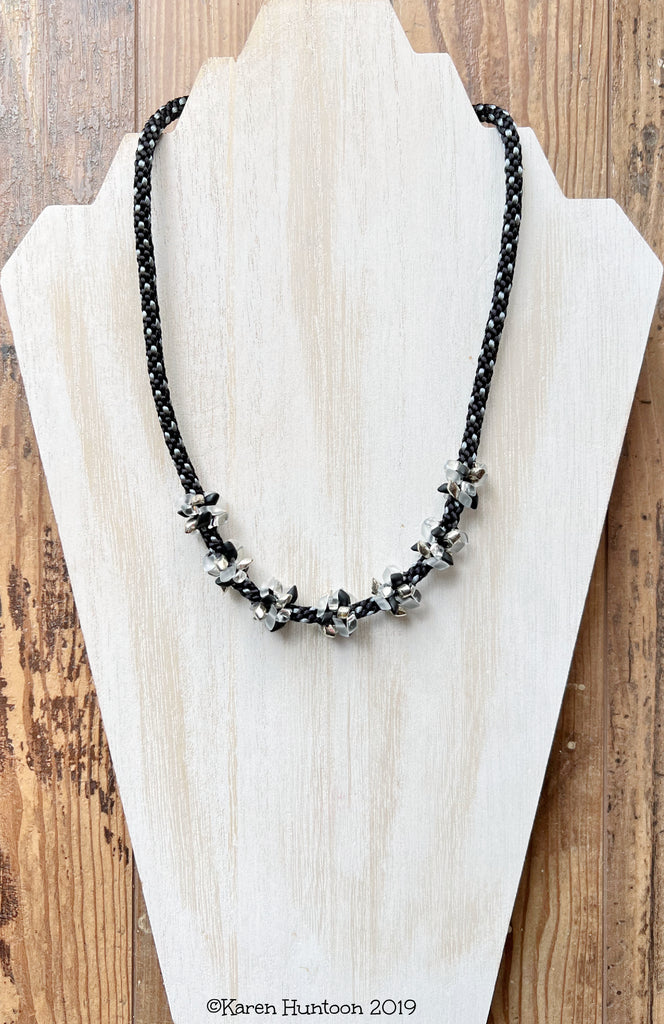 Magatama Cluster Bead Necklace Kit - Black & Gray
$ 22.00
Description:
The February Kit of the Month is the Kumihimo Magatama Cluster Bead

Necklace. 
I tried to create colorways that are versatile and work for different people, i.e., a little Spring, a little Earthy and a little dressy.   The necklace is made up of 2 colors of Petite Satin cord in a "Spot" pattern. There are 7 clusters. The method in which the beads are threaded onto the cords is what creates the irregularity of the beads in the clusters. Instead of lying smooth, the Magatama clusters have "texture". The closure is the All-in-One Magnetic clasp.  
The finished necklace is between 23" and 24" (depending on beads and braiders).

You will need:
Kumihimo Disk (I recommend the Beadsmith Mini; a new 10mm or a slightly used 20mm) both available at www.whatabraid.com.)
8 Bobbins
Scissors
Tape Measure
You should know:
Kongoh Gumi or Round Braid
 and How to drop beads (See Kumihimo Tip #14 for a reminder;  www.whatabraid.com)
Kit Includes:
12 yards Petite Satin Cord (2 colors)
Magatama Beads (3 or 4 Colors)
6mm All-in-One Magnetic Clasp
Instructions
Related Products