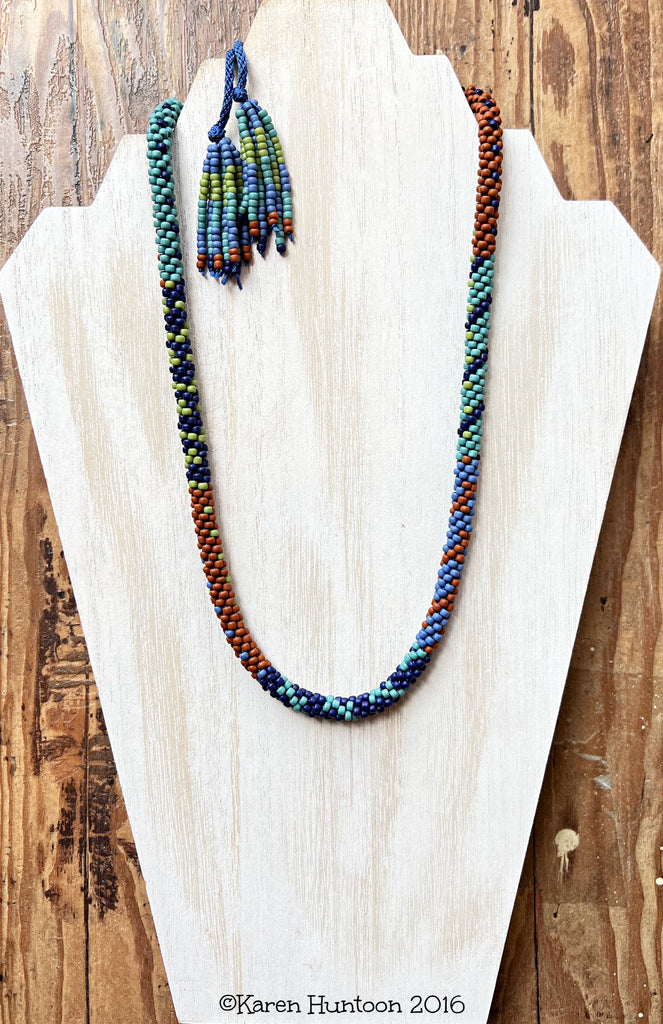 "8/0 Painting with Beads Kumihimo Necklace Kit with Adjustable Closure" - Semi-Glazed
$ 42.00
Description:
These 8/0 Painting with Beads Necklaces are designed with 7 sections of beaded pattern/color and the instructions are "charted" according to these sections. You will bead and braid each section before moving on to the next section. This works beautifully and it sure makes it easier if you missed a bead or counted wrong when you were stringing. Because of the way the pattern is written, if you have the inclination, you can later take the beaded patterns and do some of your own creating. If you do some of your own creating, you will find that where you put your light and dark colors will significantly change the "look" of a beaded pattern. The "Painting with Beads" necklaces are made with 8/0 Toho or Miyuki Seed Beads and the necklace kit comes with the adjustable closure. The finished length of the beaded portion about 17″ depending on the beads and the braider.  The tails on either end are 6″. This necklace can be worn as short as 17″ or as long as 29″ (give or take). For those of you that need a reminder, 8/0 seed beads are smaller than the 6/0 seed beads and this makes for a smaller diameter beaded rope and the beaded patterns 
appear
 more detailed.
You will Need:
 Kumihimo Disk (I recommend the THICK Mini), 8 Bobbins, Measuring Tape and Scissors, Glue (I like WeldBond; available at Ace Hardware stores and some Michaels and other locations depending where you live)! 
You Should Know:
 Kumihimo Round Braid (Kongoh Gumi) and how to "drop" beads. If you aren't sure how to "drop" beads, it's very easy and you can check out 
Kumihimo Tip #14
.  While the instructions are written for a disk, they are easily adaptable to the Marudai.
Kit includes:
– 8/0 Toho and/or Miyuki Seed Beads
– 1 Spool C-Lon Bead Cord
– Barrel Bead for Adjustable Closure
– Wide Eye Beading Needle
– Instructions with Photos
Related Products