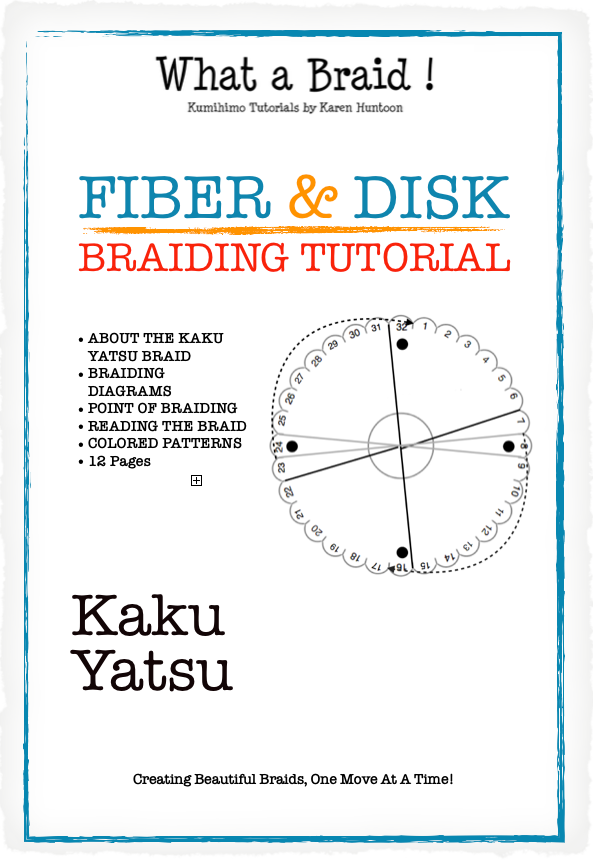 Instant Download Tutorial - Kaku Yatsu Braid Structure - 12 pages - Tutorial for Fiber & Disk
$ 14.99
KAKU YATSU BRAID. This 12-page information-packed tutorial teaches you

everything about braiding the Kaku Yatsu braid on a Foam Disk (although there is alot of useful info for the marudai braider as well).  It doesn't just tell you how to make the braid but goes to greater lengths to provide a well-rounded understanding of the braid. Included in this tutorial are braiding sequence diagrams, point of braiding explanations, tips on reading the braid and suggested color patterns for a variety of braids.

Once you have a command of this braid, you will be ready to add it to your repertoire of braids. 
Since this is a pattern only, it is up to the maker to choose their own components. Following are some of the braiding fibers and tools I recommend:
Kumihimo Thick Foam Disk
Plastic Bobbins
Petite Satin Cord
Kumihimo Jubilee Ribbon
Kumihimo Rayon Filament
Kumihimo Rayon Ribbon
Kumihimo Rayon Gimp
Kumihimo Shimmer Yarn
Kumihimo Frilly Yarn
Embroidery Floss
Paton's Grace (or similar)
And all fibers used in combination with each other!

Copyright Protected - Terms of Use

Purchasing this pattern implies that you understand and agree to the Terms of Use below.
All patterns written by Karen Huntoon are protected under Copyright Law - All Rights Reserved. This pattern is for your personal use only. Please do not scan, copy, reproduce or distribute any of this pattern with friends, groups, classes or guilds. If you would like to use these instructions to teach classes you must purchase Patterns/Tutorials for each student. 

There are no refunds on Downloadable Patterns.

Thank you.
Related Products