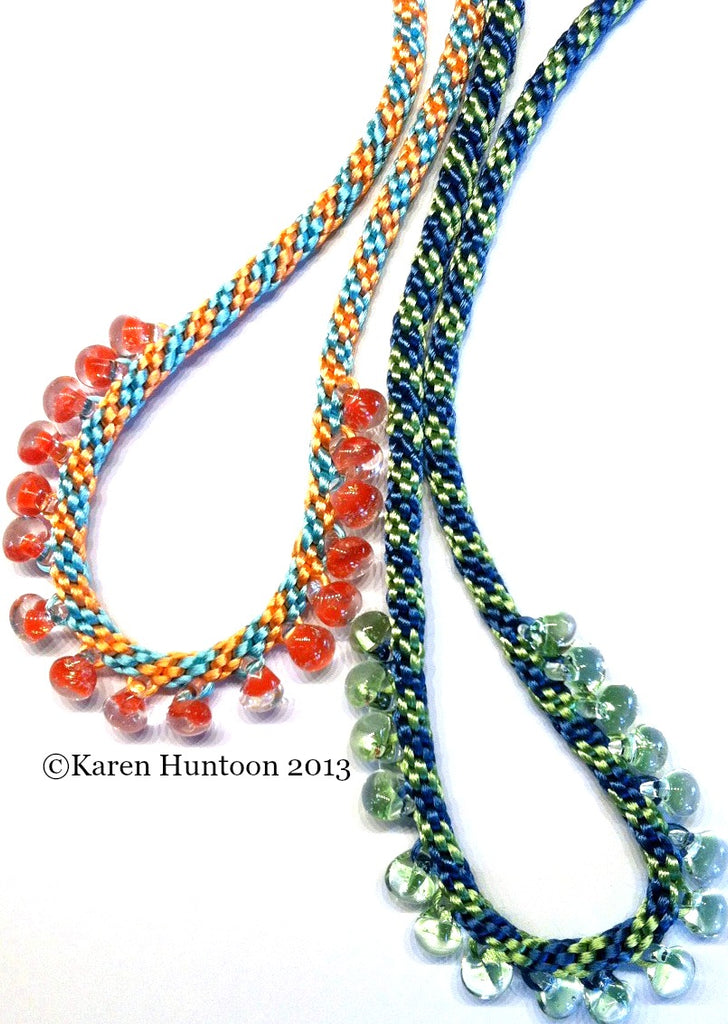 Instant Download Tutorial - Kumihimo Braided Teardrop Edge Bead Necklace
$ 10.00
The Braided Teardrop Edge Bead Bead Necklace has been a long time favorite. The braided is made from Petite Satin Cord and is embellished with an "edge" of Handmade Lampworked Glass Teardrop beads. The braided sections, on either side of the Teardrop beds, measures 7" on each side. The Teardrop bead focal section measures about 10: The necklace can be worn as long as 24" and shorter if you like. I prefer about 17". The longer the braided lengths on either side of the Teardrop focal portion, the longer the necklace.
Since this is a pattern only, it is up to the maker to choose colors for all components. Following are links to the items I have used to create my samples:
Petite Satin Cord
6mm Magnetic Clasp
Unicorne Beads (Lampworked Teardrop Beads)
Fray Block
Kumihimo Foam Disk
Plastic Bobbins


Copyright Protected - Terms of Use

Purchasing this pattern implies that you understand and agree to the Terms of Use below.
All patterns written by Karen Huntoon are protected under Copyright Law - All Rights Reserved. This pattern is for your personal use. Please do not scan, copy, reproduce or distribute any of this pattern with friends, groups, classes or guilds. If you would like to use these instructions to teach classes you must purchase Patterns/Tutorials for each student. You may make items to sell but credit for design should be given to Karen Huntoon.

There are no refunds on Downloadable Patterns.

Thank you.
Related Products