Oaxaca, Mexico 2017 - Kumihimo & Knitting Workshop / Adventure
Posted on 19 Mar 07:08
I flew the coop and got out of the snow for 23 lovely days. We took two groups (20 people each group for 10 days per session) to Oaxaca, Mexico. Oaxaca is one of my favorite destinations. From arts to culture, to history, to gastronomy, there is nothing not to love about Oaxaca. It is a happy place. There is music in the air, the Zocolo is always alive and the streets hum with people of all ages. 
We played morning, noon and night and I think we all returned home happy and tired. We did not let any grass grow under our feet, that's for sure. 
Here are some of the trip highlights:
1. We spent an entire day in Teotitlan del Valle where were visited the studios of Bulmaro Perez and Pantaleon Ruiz.Bulmaro is one of Teotilan's best weavers. His work embodies a wonderful blend of tradition with innovation. He takes great pride in using natural dyes and pure wool. Pantaleon Ruiz is a weaver, sculptor and painter and we were able to enjoy his weavings at his studio and we took in his sculptural installments at the Quinta Real Hotel in Oaxaca Centro. We had natural dye demonstrations at both weaver's studios and had the opportunity to purchase alot of rugs. Absolutely beautiful. After the weaving studios we took a side trip to Arte y Seda a family-owned weaving cooperative that focuses on cultivating silk worms, feeding them the mulberry leaves from the trees grown in their courtyard, spinning the cocoons, dyeing the silk yarn with natural colors, and then weaving the fine silk threads into magnificent garments, scarves and shawls.  
2. Oaxaca is famous for its brightly hand painted Mexican folk art sculptures of fantastical creatures called "Alebrijes". We visited the studio of Jacob and Maria Angeles in San Martin Tilcajete. We learned that almost every figure is carved from a single piece of Copal wood. The process starts with carving, then sculpting and preparing the figure for the intricate hand painting. It is truly an amazing process. The painters start as students and work to the level of Master painter. 
3. We spent a good part of a day taking cooking classes at Casa Crespo with our teacher Oscar. It was a lot of fun for all of us as we learned, chopped, pealed, sliced and blended a variety for Oaxacan foods and sauces. After a day of cooking, we sat down and enjoyed the fruits of our labor and had a multi-course meal. Delicious!
4. For the hearty adventures in our group we included a trip to the ruins at Monte Alban as well as in Mitla. The archeologists in the group found this fascinating and just wished they had more time. 
5. Visiting the Dona Rosa Black Pottery Studio in San Bartolo Coyotepec was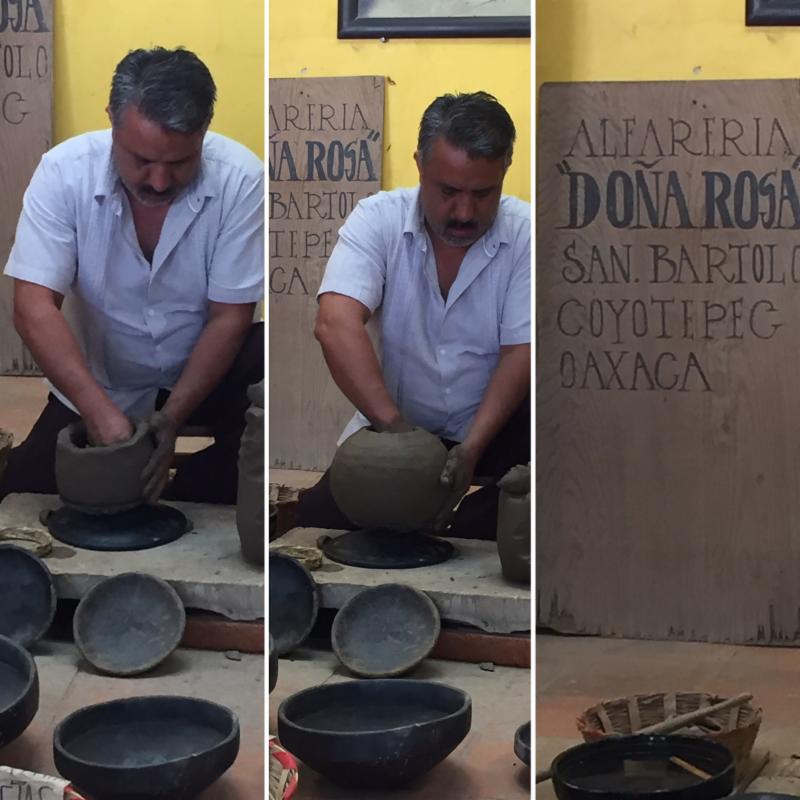 also a highlight for many. The demonstration was excellent and shopping for pottery was a lot of fun. I worked with one of the potters and on my second trip to the studio, I was pleased to receive all of my Black Pottery focal pieces that will be introduced in the coming months They are fantastic, so stay tuned!!
6. Irene York taught Knitting Classes and Karen Huntoon taught Kumihimo Classes.The knitters were kept busy knitting a variety of stripe patterns incorporated with other techniques and the braiders ventured out of the box and explored the "Endless Possibilities of an Extra-Ordinary Braid: The Many Faces of the Kongoh Gumi".  There was some good mental stretching going on for the braiders and many new skills were acquired! 

7. Oaxaca is known for its fine dining and we did plenty of it. Many of us tried alot of Mole  
and definitely found our favorites. One night we had a "Welcome Dinner" for the group at a beautiful place called Los Danzantes. It is an open air restaurant and we were delighted with fireworks overhead part way through dinner. How's that for planning?














8. A really fun excursion is the trip to the Sunday Market in Tlacolula. You can see everything at this indigenous market from flowers to produce to bakery goods to hardware to meats to fruits and vegetables, baskets, textiles, aprons to live turkeys. This place touches all the senses: sight, smell, taste, touch and sound. It is sensory overload and it sure is wonderful.




9. Mi casa es su casa. We stayed at a very special hotel called La Catrina de Alcala. We were right on the main  
walking street (no traffic noise) and we were 2 blocks from the Zocolo. The location was absolutely fantastic. The best part was the staff at the hotel. In your wildest dreams, you could not imagine a nicer group of people. Rosio, Zenon, Ernesto, Galli, Abel, Angel, Victor, Juvenal, Angelica and Viri made us feel like we were at home every day. How many times do you leave a hotel with a tear in your eye? I had 23 fabulous days with these lovely people and when I go back, you can bet I will see them. 


10. Finally.....thank you to all the trip adventurers for trusting us to take you to Oaxaca!